CDOT/SR-119
Blackhawk, CO.
[custom_frame_left shadow="on"]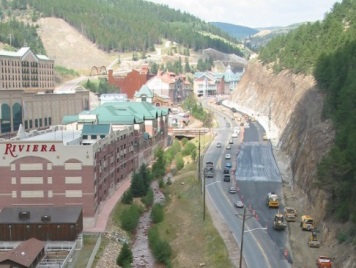 [/custom_frame_left]
M.C. Donegan: Provided controlled drilling, blasting, presplitting and rock bolting for the widening of State Road 119 through the city of Blackhawk, CO.  Pre and post blast surveys of structures nearby and seismic monitoring of all structures of concern.
The city of Blackhawk only allowed the work to be performed from midnight to 8 a.m. so that it would not affect the city's business during the day and evening.  Crews loaded blast holes, and had the shots ready for initiation at sunrise every day for one year.
[custom_frame_center shadow="on"]

[/custom_frame_center]
[custom_frame_center shadow="on"]

[/custom_frame_center]